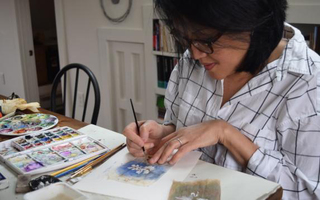 Ruby Silvious is internationally recognized for her miniature paintings and collages on the used tea bag. On January 3, 2015, she started a project called
363 Days of Tea
, a visual daily record of her impression of the moment, using the emptied-out tea bag as her canvas, and altering it to create a new work of art every day for 363 days. She draws, paints, prints and collages moody, evocative and sometimes whimsical art on used teabag paper. She is the author of
363 Days of Tea: A Visual Journal on Used Teabags
(Mascot Books, 2016). Her paintings on tea bags, some inspired by her travels around the world, have been featured in numerous publications including CNN Travel, The Guardian, Der Spiegel, Good Morning America/ABC News, and the internationally syndicated Ripley's Believe it or Not.
Silvious was educated in the U.S. and Asia; she currently lives and works in New York's Hudson Valley. Her art is exhibited internationally, and is featured in public and private collections.
Most recent international exhibitions
In March 2019, Silvious' art was featured in a solo exhibit at Creative Space Hayashi, a gallery in Chigasaki, Nakagawa Prefecture, Japan. Prior to that, marking the introduction of a new international artist-in-residency program, Silvious was the first resident artist at LM Studio in Hyères, at the southern tip of France's illustrious Côte d'Azur region, where she showcased paintings inspired by her visit, in a solo exhibit,
Printemps en Provence:
26 Days of Tea in France
.
2019
The Art of Tea
, Creative Space Hayashi, Chigasaki Japan, March 2019
2018
Rocky Mountain Tea Festival
, Boulder Dushanbe Teahouse, Boulder CO, July 2018
2017
Printemps en Provence,
LM Studio, Hyères France - May 2017
2016
363 Days of Tea,
Atlantic Gallery, New York, NY - Sept-Oct 2016
Reinterpreting Tradition,
Studio Kura Gallery, Fukuoka, Japan - June 2016
Tea and Alchemy
, Greene Arts, Catskill NY - Jan-March 2016
2014
Salvaged: Reimagining the Familiar,
Atlantic Gallery, New York, NY - Nov 2014
2013
Artist of the Month
: Harmony House Marketplace, Cohoes NY - Oct-Nov 2013
New Prints 2013: (featured artist)
, Upstate Artists Guild, Albany NY - Sept 2013
2012
Flight and Fancy,
Fulton Gallery, Troy NY - Jun-Jul 2012
Pressed and Folded II,
Madison Theater, Albany NY - May 2012
2011
New Works in Printmaking
, Broadway Arts Center, Albany NY - Dec 2011
2010
Pressed and Folded I
, Ann Roberts Gallery, Albany NY - Dec 2010
SELECTED GROUP EXHIBITIONS
2019
ARTermative
, Pop Up Show, Albany NY, Apr 5 2019
2018
More Fun Than Fun
, Iona College Gallery, New Rochelle, NY - Sept-Oct 2018
Imagined
, Antler Gallery, Portland OR - Aug-Sept 2018
Remembered
, Paradigm Gallery+Studio, Philadelphia PA - Aug-Sept 2018
Tea Connecting Cultures
, Mary Daly Art Gallery, Madison CT - August-Oct 2018
Le Bord
, Red Truck Gallery, New Orleans, LA - May 2018
Art on Paper 2018, Pier 36, New York, NY - March 2018
Deemed a Canvas
, Paradigm Gallery+Studio, Philadelphia PA - Jan-Feb 2018
DRAWING: Stretching the Line
, The Art Gallery at North Hill, Needham MA - Jan-Feb 2018
2017
5 and Under: An Exhibition of Small Works,
Creativity Caravan, Montclair, NJ - Dec 2017-Jan 2018
Bosom Bodies
, Peekskill NY - October 2017
Flourish
, Jaggedart, London UK - June-July 2017
The Conversation,
New York NY - April
27-30 2017
Layers, Levels, Lines,
Woodstock Art Exchange, West Hurley NY - Dec 2016 -Jan 2017
2016
Heroic Battles and Love... Anyway, Pick Love!,
Fulton Gallery, Troy NY - May 2016
Dialogues,
Atlantic Gallery, Chelsea NY - Jan 2016
2015
40 Years/40 Artists
, Greene Arts, Catskill NY - Oct 2015
IAM Pocketsized
, Islip Museum of Art, Islip NY - June-Sept 2015
Recycled Runway
, Corning Museum of Glass, Corning NY - May 2015
REcycle
, Brooklyn Waterfront Artists Coalition, Brooklyn NY - May-June 2015
A Celebration of Birds
, MAC650 Gallery, Middletown, CT - May 2015
Singular Impressions
, Artists' Space at The National Bottle Museum, Ballston Spa, NY - Feb - Apr 2015
2014
Over the Edge: Paperworks Unbound
, Williamsburg Art & Historical Center, Brooklyn, NY - Oct 2014
Re-made and Recycled
, Washington Artworks, Rockville MD - Aug-Sept 2014
Ronda Limpia (Recycled Art Exhibit)
, Palacio de Congresos de Ronda, Malaga, Spain - May 2014
2013
Revealed: Masks & Totems
, Phoenix Center of the Arts, Phoenix, AZ - December 2013
Seven Year Kitsch
, Upstate Artists Guild, Albany NY - Sept 2013
The Drive Home
,
Graphic Arts Workshop, San Francisco CA - Aug-Sept 2013
Print Exchange 2013
, Robert Blackburn Printshop, New York City, NY - Sept 2013
2012
3-Person Show:
Japanese Influence: Layer and Line
, Albany Center Gallery, Albany NY - Sept 2012
Fence Show:
The Arts Center of the Capital Region, Troy NY - June 2012
Creative Sojourn in Italy
(with Linda Goodman) Il Bisonte per lo studio dell'arte grafika, Florence Italy - June 2012
2011
Wabi-Sabi
, Columbia County Council on the Arts, Hudson NY - Sept 2011
Awash with Color
, Stage One, Albany NY - Dec 2011
Paper Arts
, Greene County Council on the Arts, Catskill NY - Feb 2011
SELECTED PUBLICATIONS
2019
Vogue Italia, March 2019,
Basta Un'Inezia, p. 168
TOPYS China, Jan 2019, Diary on a Tea Bag, pages 83-85
The Afterlife of Discarded Objects, Memory and Forgetting in a Culture of Waste, by Andrei Guruianu and Natalia Andrievskikh (Parlor Press), pgs 184-185
2018
FLOW (Dutch quarterly crafts magazine):
Tea Tales
, Winter 2018
Opalus (Canadian Fashion & Fine Art Magazine), Oct 2018 (6-pg feature)
Reclaim Magazine (UK Interiors publication featuring vintage, antique and recycled pieces), Oct 2018 (7-page feature)
Das Magazin (German Art & Design Magazine), Apr-May 2018 (8-pg feature)
La Stampa (Italian newspaper), Jan 2018
Vida Simples (Brazilian Art & Design Magazine): Doses de cha e arte, Ana Holanda, March 2018
2017
Ada (Sri Lanka Magazine):
Ruby Silvious adds a new meaning to the tea bag
, Nov 2017
Cloth Paper Scissors Magazine:
Artist Profile,
July-August 2017
KoffieTcacao Magazine (Dutch):
arTea,
Summer 2017
Khaleej Times (Dubai, UAE):
Why these Artists Don't Toss Damp Teabags in the Trash
, Apr 2017
The Daily Gazette:
Artist Gives Recycling a New Meaning
, Apr 2017
T Spain: The New York Times Style Magazine, Mar 2017
Emotion Magazine (Germany): Neue Kleider für alte Beutel, Feb 2017
2016
Beyond Paper:
The Art of a Tea Bag
, Sept 2016
Tea Journey Magazine:
Teabags too Charming to Compost
, Sept 2016
Ripley's Believe It Or Not, June 8, 2016
Organic Hudson Valley Magazine:
Creating Art Out Using Repurposed Materials,
May-June, 2016
Disney Malaysia:
Lukisan Atas Uncang Teh
, May 2016
Hudson Valley Almanac Weekly:
The Art of Tea
(cover story), Jan 2016
Arts Alive:
Tea & Alchemy
, Jan 2016
Chronogram, Jan 2016
Magazine S: (S. Korea)
Upcycling for a Better World
, Jan 2016
2015
The Guardian UK:
Storm in a Teabag
, Nov 2015
Metro Holland:
Deze kunst is helemaal my cup of tea
, Nov 2015
Metro International Russia, Nov 2015
7Days (Dutch Newspaper):
363 dagen theezakjeskunst
, Nov 2015
Recycleopedia:
Artist uses Discarded Tea Bags and Egg Shells as Blank Canvasses
, Feb 2015
Magazin für Restkultur:
Kunst – mit ohne Müll
, Jan 2015
2014
Times Union:
Sculpture in the Streets
, May 2014
2012
Times Union: Exhibit Showcases
Japanese Influence on Three Capitol Region Artists
, Sept 2012
The Saint Rose Chronicle,
Artists Collaborate with Madison Theater to beautify Pine Hills
, Apr 2012
2011
Hudson Valley Magazine:
Polly's Picks
, Feb 2011

2015 People's Choice Award, 40 Years /40 Artists, Greene County Council on the Arts - October 2015

2015 Third Place: Tiger Lily, Art Exhibeo Magazine Summer Palette Art Competition

2015 Director's Choice Award: Swirls, Athens Cultural Center, Athens, NY

2011 First Place: Direct Mail Category, Society of Marketing Professional Services (SMPS), Chicago IL
2011 People's Choice: Direct Mail Category, Society of Marketing Professional Services (SMPS), Chicago IL
2009 People's Choice: Ruby's Shoes, Albany Center Gallery, Albany NY
RESIDENCIES / WORKSHOPS ABROAD
Mudhouse Residency, Agios Ioannis, Greece 2019
Art Print Residence, Arenys de Munt, Spain 2018
LM Studio Artist in Residence, Hyères, France 2017
Studio Kura Artist in Residence, Fukuoka, Japan 2016
Palazzo Rinaldi Artist in Residence, Noepoli, Italy 2015
Gail Reike's Artist as a Traveler Workshop, Montmirail, France 2015
PUBLIC COLLECTIONS
SUNY Cobleskill Champlin Dining Hall
SUNY Cobleskill Brew House
Eastern Visayas Regional Medical Center, Tacloban City, Philippines
The Lamp Post, Johannesburg, S.Africa
Private collections in Italy, Spain, Belgium, France, Germany, Australia, Japan, Philippines, Russia, UK, and the USA
Il Bisonte International School of Graphic Arts, Florence, Italy 2012
Sage College, Albany NY, Graphic Design, 2006
Siena College, Loudonville NY, BS Marketing Management, 2001
CGCC, Hudson NY, AS Business Administration, 1997
Art Students League, New York City, 1981-83
New York School of Interior Design, New York City, 1981
University of Santo Tomas, Architecture & Fine Arts, Manila Philippines, 1973-1977

b. 1957 Tacloban City, Philippines